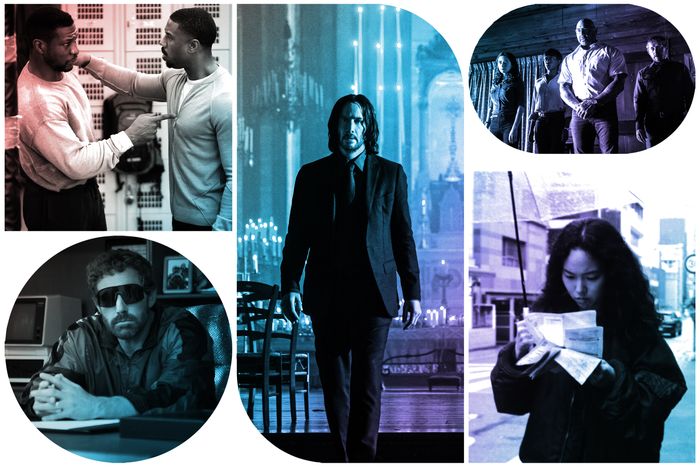 Photo-Illustration: Vulture; Photos: Lionsgate Films, Sony Pictures Classic, Universal Pictures, Warner Bros. Pictures
It's that time of year — the glamour of Cannes is around the corner, the summer movie season is imminent, and the Oscars feel somehow five minutes ago and also five months ago. 2023 has already brought a bounty of independent, meticulously assembled cinematic stunners, many of them from abroad, along with American-studio curiosities like Cocaine Bear, Plane, and M3gan. It's shown us the romantic comedy isn't dead, it's just streaming on Hulu. And, bless him, M. Night is still Shyamalan-ing boldly to new movie-ending controversies, this time to thrilling and aching effect. Heck, the Michael Jordan shoe flick is great, actually. And there's still more to come. Here are our favorite films of the year so far, curated by Vulture film critics Alison Willmore, Bilge Ebiri, and Angelica Jade Bastién.
All titles are listed by U.S. release date from newest to oldest.
Photo: Ana Carballosa/Prime
Air, Ben Affleck's enormously entertaining corporate drama about Nike's efforts to sign Michael Jordan, might seem at first like a ridiculous idea for a movie, but it is in fact an ingenious one. The creation of the Air Jordan sneaker changed pop culture forever, and Jordan's unprecedented profit-sharing deal with Nike would give athletes equity in the products they were being used to sell. The film situates the Air Jordan as a product of the runaway consumerism of the 1980s, but it also hints at a boundless, complex new world coming into view. In what will surely go down in history as one of the great sports-movie speeches, Sonny Vaccaro (Matt Damon), the executive in charge of the shoe company's basketball outreach, makes the point to Michael himself that the player practically exists outside of space and time. "Everyone at this table will be forgotten," he says, noting all the executives gathered around them. "Except for you." —Bilge Ebiri
Read Bilge Ebiri's review of Air, Chris Lee's behind-the-scenes story about screenwriter Alex Convery, and Derek Lawrence's interview with actor Chris Messina.
Photo: Courtesy of Aaron Ricketts/Focus Features
 A.V. Rockwell's directorial debut is a novelistic New York movie spanning 11 years in the life of Inez (a revelatory Teyana Taylor) as she fights to make a life for herself and her son, Terry. The film begins with Inez grabbing a 6-year-old Terry out of foster care not long after she's released from Rikers, but rather than tell the story of life on the run, Rockwell opts for something richer and more expansive — the saga of how a woman with no experience of what a stable home is like manages to create one through sheer force of will in a changing city that's increasingly hostile to people like her. —Alison Willmore
Read Alison Willmore's review of A Thousand and One.
Photo: Aidan Monaghan/Paramount Pictures
In attempting to turn the classic fantasy role-playing game into a franchise picture, directors John Francis Daley and Jonathan Goldstein somehow manage to play to the base while acknowledging the inherent ridiculousness and impenetrability of the concept. Their film is filled with medieval derring-do, unpronounceable fantasyspeak, and what I can only assume is a cornucopia of nerdtastic Easter eggs. But it's also hilarious, with a game cast led by Chris Pine, a leading man who has turned making fun of his own leading manness into an art form. The film's set pieces are built around comedy, with bits of (cleverly choreographed and directed) action to add some urgency, not the other way around. And the humor actually helps to up the suspense. Honor Among Thieves is the work of filmmakers who understand that the best way to take stuff like this seriously is not to take it seriously at all, and to have fun with it. —B.E.
Read Bilge Ebiri's review of Dungeons & Dragons: Honor Among Thieves.
Photo: Murray Close/Lionsgate
John Wick: Chapter 4 is blissfully entertaining, full of pratfalls and acting turns that make audiences swell with oohs, aahs, and yelps. It's far more narratively focused than its previous sequels, while still managing to globe-trot a behemoth cast à la Chapter 2 and Chapter 3. Here, John Wick (Keanu Reeves) seeks to finally buy his freedom by dueling the Marquis (Bill Skarsgård). I have some reservations about the narrative choices, but the cinematic violence of Chapter 4 brought me the joy and erotic rush that has long powered the series. It synthesizes the zaniness of Looney Tunes and gags of Buster Keaton with martial-arts master classes that call back to the career of Jackie Chan and learn from more recent films like 2017's South Korean action flick The Villainess. It's a history lesson on what the body can do onscreen — its limits and its wonders. —Angelica Jade Bastién
Read Angelica Jade Bastién's review of John Wick: Chapter 4, Chris Lee's interview with filmmaker Chad Stahelski, and Bilge Ebiri's analysis of the movie's ending.
Photo: Graeme Hunter/Pathe Productions
This is the lightly fictionalized (and amazing) story of amateur historian Philippa Langley (Sally Hawkins), who in 2012 helped lead an archeological expedition that dug up a nondescript Leicester car park and unearthed the remains of the notorious King Richard III. The bulk of the film tells of how Philippa came to be fascinated by the disgraced medieval monarch and fought not just to find his grave but also to counter the prevailing villainous narrative about him, which may well have been the work of Tudor propagandists. There's an interesting tension in the film, between the exaltation of royal power on the one hand — a spiritual belief in the magic of lineage, itself dating back to arcane notions of divine right — and, on the other, the ennobling of common individuals, of ordinary people like Philippa as they butt heads with city councils and university administrators and academic mossbacks. The very act of reclaiming Richard's legacy from his now-gone Tudor rivals puts the lie to the very idea of royalty, of bloodlines, and the eternal question of who gets to have power over whom. —B.E.
Read Bilge Ebiri's review of The Lost King.
Photo: Christine Plenus/Wild Bunch
The latest from award-winning, veteran Belgian realists Jean-Pierre and Luc Dardenne follows two African migrants in Belgium: 17-year-old Lokita (Joely Mbundu) and her 11-year-old "brother," Tori (Pablo Schils). They're not actually siblings. They're not even from the same country. But they've formed an almost mystically strong bond ever since they met during their crossing to Europe and have now become inseparable. For all the sensitivity and sobriety of their work, what has made the Dardennes such effective filmmakers has been the subtle way they insert genre elements into their dramas. Each movie could be thought of as a thriller — often involving characters racing against the clock, entering places they mustn't, or crossing people they shouldn't. This one is no different: Tori and Lokita work for pennies at an Italian restaurant, singing songs for the customers, then dealing drugs all over the city for the joint's owner so they can make money to send to Lokita's family back home and to the smugglers that brought them here. These two kids are surrounded by cruelty, indifference, and suspicion, but their relationship also allows us to feel some hope. It also means that the film becomes ulcer-inducingly unbearable once things truly start to spin out of control. —B.E.
Read Bilge Ebiri's review of Tori and Lokita.
This cleverly constructed comedy from Hong Sang-soo takes place entirely in a small Seoul apartment building that provides not just the setting for the movie, but its structure. Byung-soo (Hae-hyo Kwon) is an acclaimed filmmaker paying a visit to the building's owner, an old friend named Ms. Kim (Lee Hye-young) who soon realizes he has ulterior motives. But what follows are sly episodes that take Byung-soo to each level of the building in what can be seen as glimpses of his future romantic and professional disappointments, or as forward-looking fantasies about his life as he gradually loses the status that's key to his identity. —A.W.
Read Alison Willmore's review of Walk Up.
Photo: Chris Harris/Courtesy of Searchlight Pictures
The romantic comedy isn't dead, it's strolling around South London in the company of Dom (David Jonsson) and Yas (Vivian Oparah), a pair of charming 20-somethings who end up spending the day together after a less than auspicious meet cute in the bathroom of an art gallery. Both are getting over breakups, and the joy of Raine Allen-Miller's movie comes from the dawning realization in each, over teasing banter and some mini-adventures along the way, that they might finally be ready to open their hearts again. —A.W.
Read Alison Willmore's review of Rye Lane.
Ji Huang and Ryûji Otsuka's bleakly funny film has you aching for its 20-year-old protagonist Lynn (Honggui Yao) as much as you also feel exasperated with her naïveté. Lynn, who's studying to be a flight attendant, seems forever a passenger in her own life, but when she finds out she's pregnant by her self-involved boyfriend, she opts to keep the baby in a scheme to help her mother, one of the few firm decisions we see her make. In Stonewalling's vision of a contemporary China accelerating toward dystopia, this shifts Lynn from being commodified for her beauty to being commodified for the fetus she's carrying, navigating an increasingly absurd fertility industry that suggests her future prospects are bleak. —A.W.
Photo: Eli Ade/Metro-Goldwyn-Mayer Pictures
Congrats to Michael B. Jordan for turning a creaky boxing franchise into something deliciously close to shonen anime. —A.W.
Read Alison Willmore's review of Creed III.
Guy Ritchie movies should theoretically be romps, but an overbearing fussiness threatens to kneecap many of them at every turn. Here then is something genuinely charming and light-footed: An espionage comedy-thriller in which a British superspy (Jason Statham) with a fondness for the finer things in life puts together a team to infiltrate the world of a playboy billionaire arms dealer (Hugh Grant), who just happens to be obsessed with the work of an action-movie star (Josh Hartnett), who in turn also gets roped into the elaborate scheme. With plenty of action set pieces — shootouts, car chases, and acrobatic beatdowns — you could imagine this as a dry run for a James Bond film, but the humorous banter and the cast (with especially charming turns from Hartnett and Grant) place it firmly in the realm of comedy. Everybody in Operation Fortune — yes, even Guy Ritchie — seems to be having fun. Sometimes, that's all you need. —B.E.
Read Bilge Ebiri's review of Operation Fortune.
Photo: Universal Pictures
Cocaine Bear is, above all else, a title and a concept, and the movie clearly understands this. Elizabeth Banks's action-comedy-thriller is loosely based on a 1985 incident when an American black bear ingested a massive amount of cocaine and was found dead soon thereafter. The film concocts a fanciful story — a series of stories, really — out of what might happen if an enormous bear went on a savage, indestructible, coke-fueled rampage through the Georgia woods. It's part Spielbergian kids' adventure, part slasher flick, with an ambling, gory insouciance that might have been more off-putting in a movie not called Cocaine Bear. —B.E.
Read Bilge Ebiri's review of Cocaine Bear, Chris Lee's interview with director Elizabeth Banks, and Derek Lawrence's interview with star Keri Russell.
Colin West's gentle sci-fi comedy-drama plays like Interstellar remade by Wes Anderson. Jim Gaffigan gives a warm, charming performance as the host of a children's science show who loses his job and decides to build a rocket from the remains of one that has crashed in his backyard. Meanwhile, his rebellious teenage daughter begins falling for the new kid at school, who just happens to be the troubled son of the hard-ass, go-getter astronaut who replaced our hero at his job (also played by Gaffigan, now with a sinister mustache). But as the characters' realities begin to fray, we start to sense that there's more to this story than what we're seeing. It's a moving film about time, ambition, aging, wormholes, and the all-consuming power of love. And the film's quaint, handmade qualities help make the tears it remorselessly jerks out of you feel like honest ones. —B.E.
Photo: Universal Pictures/PhoByMo
Four strangers (led by a wonderful Dave Bautista) emerge from the woods and present a family — a young girl and her two fathers (Jonathan Groff and Ben Aldridge) — with an impossible choice: They must willingly sacrifice one member in order to avert the apocalypse. The film smoothly moves from the textures of one type of thriller to another, even as the mood remains eerily consistent. A Frankenstein opening soon gives way to a home-invasion picture, then a village-cult horror movie, and finally a disaster flick. Knock at the Cabin is based on Paul Tremblay's 2018 novel, The Cabin at the End of the World, and the script follows the book pretty closely for the first two-thirds. Both are works of the apocalyptic imagination, but Tremblay's tale is more insular, working the ambiguity of the situation to explore the characters' faith and emotional perseverance. Shyamalan, however, understands that there is usually little ambiguity around such horrors in cinema; in 2023, when someone in a movie says the planet is ending, it usually is. Instead, he returns to one of the animating ideas of his early work: a profound grief at the state of the world. The result is the most exhilarating and wounding film the director has made in many, many years. —B.E.
Read Bilge Ebiri's review of Knock at the Cabin.
Photo: Les Films du Losange
Mia Hansen-Løve makes pictures that amble along with the rhythms of the everyday, about characters who never quite know what to do with themselves when they experience brief moments of happiness. She borrows odds and ends from her own life (and the lives of those around her), and reconfigures them into stories that carry the unnerving echoes of truth. In One Fine Morning, Léa Seydoux plays a widowed single mother whose philosopher father (Pascal Greggory) has been struggling with dementia. While mulling what to do with his rapidly deteriorating condition, Sandra reconnects with an old, married friend (Melvil Poupaud) and begins a heated affair. Suddenly, she finds herself deeply in need of this man's affections — cherishing her moments with him while trying to hold off the irreparable sadness that seems to surround her. This could have easily become a torrid, tear-jerking melodrama, but Hansen-Løve's matter-of-fact approach to performance and incident allow the emotions to emerge organically from the unfussy drama onscreen. She reminds us that beauty is often found in the mundane cadences of ordinary life. —B.E.
Read Bilge Ebiri's review of One Fine Morning.
Photo: Kenneth Rexach/Lionsgate
Plane. —B.E.
Read Bilge Ebiri's review of Plane.
Alice Diop's stunner of a film tucks a whole fraught universe into a courtroom drama. Kayije Kagame plays Rama, an author and professor who attends the trial of Laurence Coly (Guslagie Malanda), a woman who's been accused of killing her own baby. Rama intends to make Laurence the subject of her next book, but instead, to her fascination and sporadic horror, sees herself in the admitted murderer, especially in their shared experiences as Senegalese immigrants and receptacles of immense parental expectations. —A.W.
With his film Return to Seoul, writer-director Davy Chou grounds his story in Park Ji-min's features and expressions. Her debut performance is so piercing it makes the entire film move like a breathing poem. Park plays Frédérique "Freddie" Benoît, a 25-year-old Korean woman adopted by a white French couple, who has returned to her ancestral home. When she visits an adoption center to find out more about her parents and realizes the organization must formally send requests to her birth mother and father, Freddie tries to remain impenetrable. But cracks in her charismatic façade become undeniable when she travels to meet her father and the family that could have been hers. There are no grand speeches, no sudden or dramatic upheavals, no twinkling score to mawkishly pull at your heartstrings. Return to Seoul carries itself with a gentle forcefulness. Where do Freddie's wounds begin? Where does the pain of her torn identity end? It is in the grooves of Park's beauty, the clarity of her emotion, that we come to understand Freddie's life as a fable written upon sand. —A.J.B.
Read Angelica Jade Bastién's review of Return to Seoul.
It may not have won the Oscar, but Colm Bairéad's 1980s drama about a neglected 9-year-old is a delicate marvel. Filmed entirely in Irish — a first for a Best International Film nominee — The Quiet Girl stars newcomer Catherine Clinch as the vulnerable Cáit, who's sent away for the summer to live on a farm with distant cousin Eibhlín (Carrie Crowley) and her husband Seán (Andrew Bennett). The couple lost their own child years ago, and the film's subdued pleasures come from the way the visit makes all three of these wounded people open up, with Cáit, pushed to the margins in her crowded home, blossoming under the attention and care she's been craving all her life. —A.W.