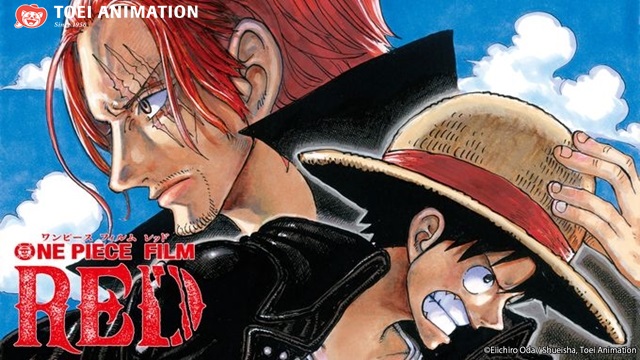 Even in its 14th weekend, One Piece Film Red earned 123 million yen (838,317 USD) on 90,000 admissions in Japan, which was 64 percent down from last weekend but was still enough to keep its No.1 positions for two consecutive weekends (13 times in total).
In 93 days since its release on August 6, the cumulative box office gross of the 115-minute film in Japan has surpassed 18 billion yen (122.7 million USD) on 13 million admissions, making it the ninth top-grossing film of all-time in Japan. At the current pace, though, it will be difficult to add another billion yen and surpass Howl's Moving Castle (19.6 billion yen) in eighth place.
RELATED: One Piece Film Red Anime Movie Celebrates Passing 18 Billion Yen at Japanese Box Office 
Coming in third is Sword Art Online -Progressive- Scherzo of Deep Night, which was in its third weekend. The reason for one position up from last weekwend's fourth would be a newly-written bonus novel book "The Seventh Day" by the original novel author Reki Kawahara, which was distributed at theaters from last Saturday. On the other hand, the revival screening of the Detective Conan anime franchise's 25th feature film Detective Conan: The Bride of Halloween ranked fourth, one position down from last weekend's third.
Uta no Prince-sama The Movie: Maji LOVE ST☆RISH TOURS, the second concert film from the Uta no Prince-sama anime franchise, continues to be a persistent box office success, ranking eighth in its tenth weekend, two positions up from last weekend. The ticket sales of the film has finally surpassed one million, and its cumulative box office gross had reached 1.55 billion yen (10.57 million USD) by November 6. To appreciate the fans' passionate support, the film's official Twitter has posted a gratitude illustration newly drawn by character designer Maki Fujioka.
/

キャラクターデザイン藤岡真紀より

"ありがとう"ビジュアル到着????

\

「劇場版 うたの☆プリンスさまっ♪

マジLOVEスターリッシュツアーズ」

11/6付で、動員100万人を突破しました????

皆様のたくさんの応援、ありがとうございます????https://t.co/fQNcSe98dV#うたプリST pic.twitter.com/f8XZP5u8Tr


— アニメ「うたの☆プリンスさまっ♪ マジLOVE」シリーズ公式 (@utapriMAJILOVE) November 7, 2022
RELATED: Uta no Prince Sama Maji Love Starish Tours Delivers New Visual Thanking Fans For Support 
---
Weekend box office Top 10 in Japan (November 5-6, 2022)
(ticket sales basis)
 1 (1). "One Piece Film Red" – 18 billion yen
 2 (2). "Karada Sagashi" – 890 million yen
 3 (4). "Sword Art Online -Progressive- Scherzo of Deep Night" 
 4 (3). "Detective Conan: The Bride of Halloween" – 9.68 billion yen
 5 (5). "Sadako DX" – 100 million yen
 6 (6). "The Divine Protector―Master Salt Begins" – 620 million yen
 7 (new). "Ticket to Paradise" – 60 million yen
 8 (10). "Uta no Prince-sama The Movie: Maji LOVE ST☆RISH TOURS" – 1.55 billion yen
 9 (-). "RRR"
 10 (8). "Whisper of The Heart" – 420 million yen
---
©Eiichiro Oda/2022 "ONE PIECE" Production Committee